Projects - Central Arizona Shelter Service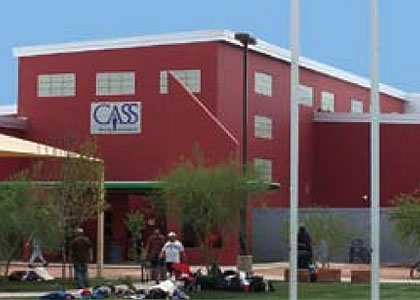 Central Arizona Shelter Services' (CASS) mission is to empower men, women, and children with diverse needs to end their homelessness by providing shelter and supportive services.
CASS was founded in 1984 in response to a need for an agency to operate an emergency shelter for the homeless in downtown Phoenix. It is the largest shelter and service center for homeless people in Arizona, serving 6,000 men, women, and children annually.
CASS has two facilities. The main facility in downtown Phoenix serves 400 homeless men and women. Vista Colina Emergency Family Shelter, is a 30 unit apartment complex in Sunnyslope that houses homeless families with children. Both operate 24 hours a day, 7 days a week.
Our Lady Queen of Peace Foundation started their monetary support of CASS in December of 2008, specifically donating towards the food cost for the shelters.
For more information on the Central Arizona Shelter Services (CASS), please visit their website at www.cass-az.org/mission.html.